Foresight Solar Fund Limited (LON:FSFL – Get Rating) announced a dividend on Thursday, November 24th, Upcoming.Co.Uk reports. Investors of record on Thursday, January 26th will be paid a dividend of GBX 1.78 ($0.02) per share on Friday, February 24th. This represents a dividend yield of 1.52%. The ex-dividend date of this dividend is Thursday, January 26th. The official announcement can be accessed at this link.
Foresight Solar Fund Price Performance
Shares of LON FSFL traded down GBX 1.60 ($0.02) during midday trading on Thursday, hitting GBX 117 ($1.38). The company had a trading volume of 651,482 shares, compared to its average volume of 1,269,595. The company has a quick ratio of 121.68, a current ratio of 121.72 and a debt-to-equity ratio of 0.03. Foresight Solar Fund has a twelve month low of GBX 98.80 ($1.17) and a twelve month high of GBX 125.54 ($1.48). The business has a 50-day simple moving average of GBX 113.11 and a two-hundred day simple moving average of GBX 117.36. The firm has a market capitalization of £713.65 million and a price-to-earnings ratio of 359.39.
Foresight Solar Fund Company Profile
Foresight Solar Fund Limited (LSE:FSFL) specializes infrastructure investments in new energy and environment with a focus on solar power plants and solar farms. It seeks to invest in the United Kingdom.
Featured Articles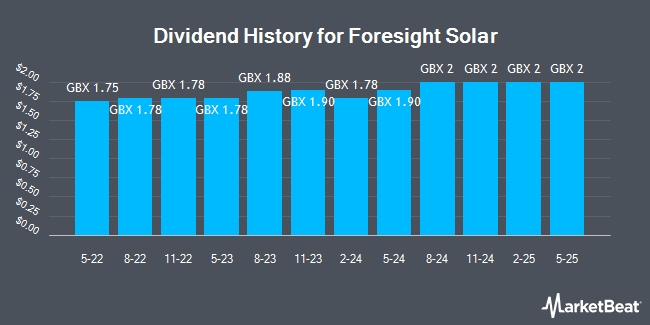 Receive News & Ratings for Foresight Solar Fund Daily - Enter your email address below to receive a concise daily summary of the latest news and analysts' ratings for Foresight Solar Fund and related companies with MarketBeat.com's FREE daily email newsletter.